AN ANALYSIS ON STUDENTS' DIFFICULTIES IN TRANSLATING BUSINESS TEXT
Abstract
This research attempts to find out students' difficulties, their translation quality and the causes of such difficulties in translating business text. The type of this research is a descriptive research. The research data were obtained from translation test and the analysis of students' translations. The result showed that the students have difficulties in the level of lexical, grammatical, contextual, textual and cultural problems. It was employed two raters from English lecturers in order to assess the test and describe the students' translation quality objectively and two lecturers of Bahasa to validate the target language. The result also showed that the qualities of students' translation were classified into bad quality. The analysis of students' translation moreover showed that the causes of students' difficulties were lack of translation competencies; lack of language competence, textual competence, subject competence, cultural competence and transfer competence. Dealing with text in certain discipline especially business text, it should be separately instructed in teaching learning process or the text should be analyzed and comprehended by students before going to transfer the whole message into target text. Also, translation process and strategies should be taught in the same time with the practice of translation.
Keywords: Difficulties, translation quality, translation competencies, business text
References
Baker, Mona. (1992). In Other Words: A Course on Translation. London: Routledge Taylor and Francis Group.
Bell, R.T. (1991). Translation and Translating: Theory and Practice. London: Longman.
Gay, L. R & Airasian, P. (2000). Educational Research Competencies for Analysis and Application. New Jersey: Merill Prentice Hall.
Hatim, Basil & Munday, Jeremy. (2004). Translation: An Advanced Resource Book. London: Routledge - Taylor and Francis Group.
Karnedi. (2005). Teori Terjemahan: Sebuah Pengantar. Jakarta: Universitas Terbuka.
Larson, Mildred L. (1984). Meaning-Based Translation: A Guide to Cross-Language Equivalence. Boston: University Press of America.
Nababan. (2003). Teori Menerjemah Bahasa Inggris. Yogyakarta: Pustaka Pelajar.
Nababan, et al. (2013). Pengembangan Model Penilaian Kualitas Terjemahan. Kajian Linguistik dan Sastra, Vol. 24, No. 1, p. 39-57.
Neubert, A. (2004). "Case Studies translation: The Study of Translation Cases". Across Languages and Cultures. Vol. 5. No. 1. p. 5 – 21.
Newmark, Peter. (1988). A Textbook of Translation. New York: Prentice Hall.
Nida, Eugene A. (2006). Theories of Translation. Pliegos de Yuste: Translation Journal. Vol. 1, No. 4. p.11-14.
Rachmadie, S. et.al. (1988). Materi Pokok Translation. Jakarta: Karunika Jakarta.
Subokova, Stanislava. (2010). "Comparing Translation Competence." Unpbulished Thesis: Masaryk University.
Sudaryanto. (1995). Metode dan Aneka Teknik Analisis Bahasa. Jakarta: Duta Wacana University Press.
Venuti, L. (2000). The Translation Studies Reader. London: Routledge - Taylor and Francis Group.
Zainurrahman. (2013). Five Translation Competencies. Journal of Philosophy of Language and Education. Vol. 7, No. 1. p. 12-18.
Full Text:
PDF
Refbacks
There are currently no refbacks.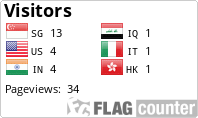 JR-ELT disebarluaskan di bawah Lisensi Creative Commons Atribusi 4.0 Internasional.