THE STRATEGIES OF ENGLISH LECTURERS IN TEACHING SPEAKING
Abstract
One of the responsibilities a lecturer should concern while teaching the students is to create a communicative environment, instead of worrying about the process of teaching and put no regard on the students' language ability. This research aimed to find out the kinds of strategy in teaching speaking of English Education Study Program and to know the application of those strategies in the classroom. The research designed in this study was a descriptive qualitative to describe the status of things in the present or in the past. It meant that the data gathered were not analysed in term of number statistical accounting, but were analysed in the qualitative form which is more than more numbers or frequencies. Based on the research findings, it can be concluded that the most lecturers' teaching strategy that used in teaching speaking are using recording & transcripts, dialogues, discussion, classroom conversation, and casual chat. Lecturers' used that technique because it is based on the handbook and it is easy to practice. Some other strategy sometimes used by lecturers', but the frequency is very rare. The most used are dialogues and conversation and chat and jokes. Based on the discussion, most students like the strategy that used by the teacher. They followed lecturers' instruction.
Keywords: lecturers' strategy, teaching speaking
References
Arikunto, Suharsimi. (2012). Manajemen Penelitian. Jakarta: Rineka Cipta.
Ary, Donald., Jacobs, Lucy Cheser., Razavieh, Asghar. (2010). Introduction to Research in Education 8th edition, Wardswoth Cengage Learning. Canada : Nelson Education ltd
Brown, D. H. (2000), Principles of Language Learning & Teaching. (4th ed.).,. Longman, New York
Cameron, K.S. (2005). Organizational Effectiveness: Its Demise and Reemergence through Positive Organizational Scholarship. dalam Michael A. Hitt and Ken G. Smith (Eds.) Handbook of Management Theory: The Process of Theory Development. London: Oxford University Press.
Gay, L.R. (2003) Educational Evaluation and Measurement: Com-petencies for Analysis and Application. Second edition. New York: Macmillan Publishing Company.
Harmer, J. (2002). The Practice of English language Teaching. Cambridge: Pearson Longman Press
Hasbullah, I., Mohammad. (2008). Teacher's Strategies in Overcoming Problems in the Teaching of Speaking at SMK NEGERI 1 Singosari Malang.
Thesis, Undergraduate Study Program of English Language Education, Faculty of Letters, State University of Malang
Miles, M.B. & Huberman, A.M. (1994). Qualitative data analysis: An expanded sourcebook. New York: SAGE Publications.
Nunan, D. (2001). Practical English Language Teaching. New York: Mc Graw Hill.
Richards, Jack C., (1990) The Language Teaching Matrix, Cambridge: Cambridge University
Richard, J.C and Renandya, W.A. (2002). Methodology in Language Teaching. Cambridge : University
Salkind, N. J. (2006). Exploring Research sixth edition. New Jersey : Pearson Internasional
Santrock., J.W. (2011). Pikologi Pendidikan Edisi Kedua. Jakarta: Prenada Media Group
Sugiyono. (2012). Metode Penelitian Kuantitatif Kualitatif dan R&B. Bandung: Alfabeta.
Thornbury, Scott, (2005) How to Teach Speaking, New York: Pearson Education. Limited.
Wehmeier, S. et. Al. (2005). Oxford Advanced Learning's Dictionary. Oxford : University Press.
Yule, George dan Brown. (1999). Discourse Analysis. Jakarta: Gamedia
Full Text:
PDF
Refbacks
There are currently no refbacks.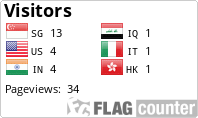 JR-ELT disebarluaskan di bawah Lisensi Creative Commons Atribusi 4.0 Internasional.